Mawker Refugee Camp (Karen), Thailand


The Mawker Refugee Camp is located near the Thai town of Mae Sot which is across the Moei River from Myawaddy, Burma. The people here were Karen who had fled Burma's ethnic warfare. Subsequent to my visit, the Karen military headquarters (on the Burma side of the border) was sacked by the Burmese government forces making the plight of the Karen people even more unclear.

Such camps are tolerated by the Thai authorities but the existance of such camps is tenuous at best. A report published by the U.S. Committee for Refugees just prior to my visit in 1993 stated that Thai soldiers had entered several refugee camps and ordered the residents to pack up and return to Burma. The refugees were given 15 minutes. Some camps were set afire as the refugees scurried away.

Deep in the woods, the camp was a challenge to find. After meeting a camp resident in a neighboring village, I ditched my motorcycle and went with her by foot through the woods wondering how I'd ever get back. I needn't have worried as the people of Mawker were very hospitable and made sure I was provided with a ride back to my motorcycle.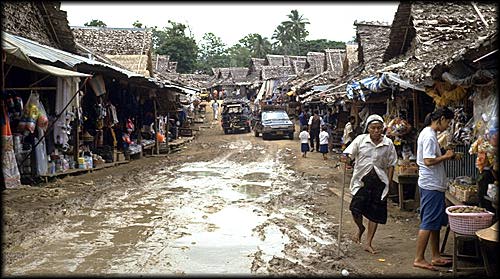 My favorite shop along this, the main street of Mawker, was a cassette stall where I purchased tapes of Karen revolutionary songs.